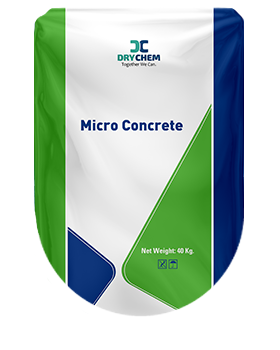 Micro Concrete-40 is a dry ready mix cementitious based composition formulated mainlyfor used in repairs works when the concrete is damaged, and the area is restricted in movement due to which there is problem in placing concrete.
Features
Develops high initial and ultimate final strengths
Makes repaired sections highly durable
Rapid strength gain to facilitate early reinstatement
Can be used as a pumpable or pourable repair concrete where access is restricted
Repair of damaged concrete structures e.g., Columns, Beams, Slabs, etc.
Technical Analysis:
Compression strength
Compressive strength (after 1 days) - > 10.0 mpa
Compressive strength (after 3 days) - > 20.0 mpa
Compressive strength (after 7 days) - > 30.0 mpa
Compressive strength (after 28 days) - > 40.0 mpa
How To Apply:
Only use a 25 kg bag and refrain from using half bags. Add 3.5-litres of water and not more for mixing.
The application surface should be properly cleaned and made free from oil, grease, or loose particles.
If used on concrete areas, micro-concrete can be applied to a thickness of up to 100mm.
The product has a shelf life of 6 months.
Partly used bags should be avoided.
Additional water can adversely affect material performance.
Curing takes a minimum of 7 days after removing the shuttering.
DryChem Is Always Interested In New, Challenging And Exciting Projects
So, why not contact us and send us your project requirements, and we'll do the rest!