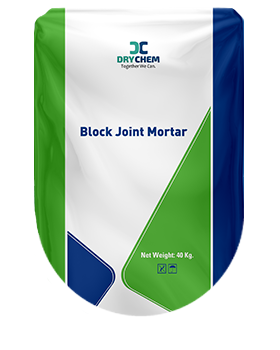 Block Jointing Mortar-7708 consists of cement, graded sand and specialized polymers which combine to give superior strength, water retention and stability.
Features
Increasing overall masonry strength & load-bearing capacity
Providing high compressive & flexural strength
Superior adhesive strength
Higher durability
Strong bond between the blocks
Technical Analysis:
Pull-off strength
Dry adhesion -> 0.30 mpa

Compression & flexural strength (after 28 days)
Compressive strength - cs iv-- >6 mpa
Flexural strength -> 1.5 mpa

Water properties
Water absorption (after 28 days) - ≤ max 0.20 kg/meter2min0.5
Water retentivity -> 95 %
How To Apply:
Block Jointing Mortar-7708 can be laying and joining of masonry units like Fly Ash block, ACC block, hollow, concrete blocks etc.
Before application surface should be clean and free from dust, grease, oil and any other foreign material.
Pre-wet the surface of the block before applying mortar. Allow excess water to drain off.
Apply the material on the block evenly with trowel. For best results it is advisable to use notch trowel of 3 to 4 mm to have better contact and bonding.
Application should be done by the angle between 35 to 45 degrees, using the right amount of pressure.
Use fibre hammer to remove any air gaps in between blocks for proper jointing and alignment.
Fill the gap between two blocks with the help of trowel and remove excess material.
Mortar should be spread on all sides of the block in such way to maintain the bond thickness 2-3 mm.
The coverage area however will depend upon the quality and evenness of the substrate, thickness of joints.
DryChem Is Always Interested In New, Challenging And Exciting Projects
So, why not contact us and send us your project requirements, and we'll do the rest!