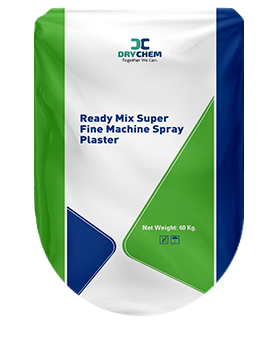 Ready mix super fine machine spray plaster is a cement based special plaster used for coating the materials on concrete surfaces and increases the strength of the surface. It can be applied at minimum 10-12 mm layer.
Features
Reduce rebounding loss.
Cracks free wall
Providing high compressive strength
Smooth Plastering
Higher durable plaster
Excellent Coverage
It has high adhesion strength.
Technical Analysis:
Pull-off strength
Dry adhesion -> 0.30 mpa

Compression & flexural strength (after 28 days)
Compressive strength - cs iv-- >6 mpa
Flexural strength -> 1.5 mpa

Water properties
Water absorption (after 28 days) - ≤ max 0.20 kg/meter2min0.5
Water retentivity -> 95 %
How To Apply:
The substrate needs to be cleaned and made free from grease and loose particles.
Then dampen the surface with clean water.
Add ready mix machine spray plaster to machine hopper with pre-set water demand.
Spray plaster to substrate using machine nozzle while finishing with a steel trowel.
Apply aluminium level patty from bottom to top direction followed by left to right and right to left direction to level the plaster.
Plain plaster wall ready for wall putty application.
Post 24-hour curing is recommended for 7 days.
DryChem Is Always Interested In New, Challenging And Exciting Projects
So, why not contact us and send us your project requirements, and we'll do the rest!