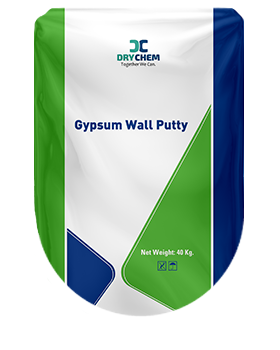 Gypsum putty is fine powder for perfect smooth finish. It is applied on the wall before the final paint so that the life of the paint increases.
Features
Aesthetic look and feel for interior walls.
Perfect for maintaining colour tone of paint.
Made for Gypsum surface and internal applications.
Time-saving solution offering excellent workability.
Best bonding solution to base plaster.
Cost-effective and excellent workability.
Ideal for filling imperfections, cracks and faults.
Adds a smooth finish and makes the painting process easy.
How To Apply:
Mix 1 kg of Gypsum Putty in recommended 400-550 ml of clean water.
Note to add Gypsum Putty into water and not vice-versa.
Obtain a homogeneous lump-free paste by stirring continuously for 3-5 minutes with a mechanical stirrer.
Allow the resultant paste to rest for about 10 minutes for the adhesives to dissolve.
Remix for about 2 minutes and the mixture is ready to apply.
Clean the surface using a paint blade and keep the surface free from dirt or loose particles.
Apply the 1st coat to a thickness of 1-2 mm with a paint blade.
Cover all undulations and rough surfaces in the 1st coat.
Allow the surface to dry. It might take 4-5 hours.
Apply 2nd coat in 0.5-1mm thickness.
Take note that Gypsum putty thickness should not exceed 2-3 mm.
Finally, check the finishing after 24 hours.
DryChem Is Always Interested In New, Challenging And Exciting Projects
So, why not contact us and send us your project requirements, and we'll do the rest!