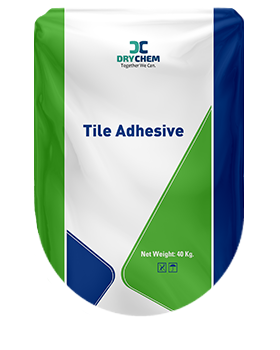 White cementitious adhesive for fixing tiles for thin bed applications develops high efficiency, high strength and high-quality.
Features
Offering high durability for interior or exterior wall substrate.
Highly cost-effective and time-saving solution.
Excellent adhesion to base plaster and concrete surfaces.
No hacking or curing is required.
Water-resistant, slip-resistant and extended open time.
Highly water-resistant and suitable for new or old walls or floors.
Increased productivity and consistent work quality.
Details:
| | |
| --- | --- |
| Composition | Graded sand, cement, selected fillers, polymers. |
| Colour | White dry powder. |
| Tests | Tested according to IS 15477:2019. |
Technical Analysis:
Tensile adhesion strength (after 28 days)
1- Dry condition - minimum 1.5 n/mm2
2- Wet condition - minimum 1.0 n/mm2

Share adhesion strength (after 28 days)
1- Dry condition - Minimum 1.5 N/mm2
2- Heat aging condition - Minimum 1.0 N/mm2
3- Wet condition - Minimum 1.0 N/mm2


How To Apply:
Always ensure to clean the wall or floor surfaces with sandpaper or a putty blade to remove any dirt or unwanted substances.
Dampen the surface for reaching a saturated porous point.
Mix Tile adhesive with 25-30 % water to obtain a lump-free paste.
Let it rest for 10 minutes and remix for another 2 minutes.
The adhesive is ready for the first coat, apply on the surface with a putty blade.
Use a 6mm notched trowel to create a channel for better gripping.
Install the tiles gently and tap slightly with a wooden hammer.
Gently remove excess mixture on the tiles.
DryChem Is Always Interested In New, Challenging And Exciting Projects
So, why not contact us and send us your project requirements, and we'll do the rest!