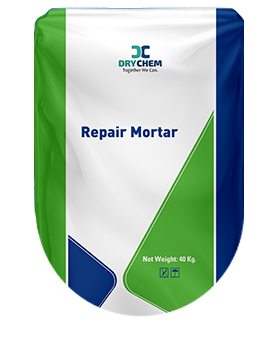 Repair mortar-70 is a polymer-modified, shrinkage compensation mortar. It is dry powder requiring addition of clean water to produce a highly consistent hand and spray grade thixotropic fiber reinforced mortar for structural and load bearing repairs.
Features
It provides high bonding strength
Perfect bonding to concrete / steel
Easy to use, single layer hi-build application ideal for vertical / horizontal structural repairs
Shrinkage control feature and repair properly in the very first application
Technical Analysis:
Compression strength
Compressive strength (after 1 days) - > 25.0 mpa
Compressive strength (after 3 days) - > 40.0 mpa
Compressive strength (after 7 days) - > 55.0 mpa
Compressive strength (after 28 days) - > 70.0 mpa
How To Apply:
Only use 25 kg bags and refrain from using half bags. Add 3.5-litre water and not more for mixing.
The application surface should be properly cleaned and made free from oil, grease and paint-like materials.
Obtain a lump-free paste by mixing well.
The thickness of the application should be upto 50mm on vertical surfaces and overhead spaces.
How to repair old concrete areas?
Make sure to cut any damaged area of concrete in square form. Remove all the debris, dust and water. Reinforcing steel should be exposed and cleaned around its surface; clean and remove the corrosion of steel by alternative methods. Repair Mortar can be applied at the thickness of up to 50 mm thickness on old concrete areas.
Curing Method
When used with portland cement, the surfaces might need water curing for concrete strength.
Curing compounds may affect the adhesion of mortar with a substrate.
Curing of repair mortar commences immediately after finishing.
Precautions & Limitations
Repair mortar should not be used below 5°C & above 35°C.
Don't use partly used bags of repair mortar.
Part mixed repair mortar should be avoided.
Repair mortar should not be exposed to running water during the application or prior to a final set.
Water ponding is not recommended for curing.
DryChem Is Always Interested In New, Challenging And Exciting Projects
So, why not contact us and send us your project requirements, and we'll do the rest!