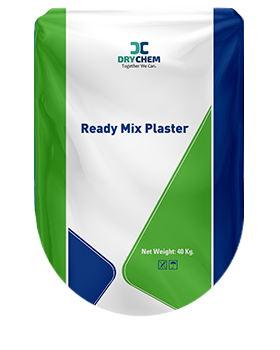 BuildWell Ready Mix is a blend of cement, graded sand, fillers with chemical additives which is convenient, easy to use and bonds stronger to its substrate. It can be applied at minimum 10-12 mm layer.
Features
Reduce rebounding loss.
Cracks free wall
Providing high compressive strength
Smooth Plastering
Higher durable plaster
Excellent Coverage
Technical Analysis:
Pull-off strength
Dry adhesion - > 0.30 mpa

Compression & flexural strength (after 28 days)
Compressive strength - cs iv-- >6 mpa
Flexural strength -> 1.5 mpa

Water properties
Water absorption (after 28 days) - ≤ max 0.20 kg/meter2min0.5
Water retentivity -> 95 %
How To Apply:
The substrate needs to be cleaned and made free from grease and loose particles.
Then dampen the surface with clean water.
Add ready mix plaster to portable water and mix well for 5-10 mins.
Allow mixture to stand for 5mins and then Re-Mix again for 2 min.
Apply plaster to substrate using some pressure while finishing with a steel trowel or wood.
Apply aluminium level putty from bottom to top direction followed by left to right and right to left direction to level the plaster.
Plain plaster wall ready for wall putty application
Post 24-hour curing is recommended for 7 days.
DryChem Is Always Interested In New, Challenging And Exciting Projects
So, why not contact us and send us your project requirements, and we'll do the rest!