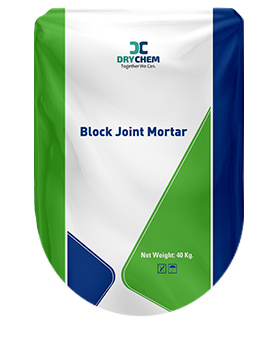 Block Jointing Mortar-51510 consists of cement, graded sand and specialized polymers which combine to give superior strength, water retention and stability.
Features
Increasing overall masonry strength & load-bearing capacity
Providing high compressive & flexural strength
Superior adhesive strength
Higher durability
Strong bond between the blocks
Technical Analysis:
Pull-off strength
Dry adhesion -> 0.30 mpa

Compression & flexural strength (after 28 days)
Compressive strength - cs iv-- >6 mpa
Flexural strength -> 1.5 mpa

Water properties
Water absorption (after 28 days) - ≤ max 0.20 kg/meter2min0.5
Water retentivity -> 95 %
How To Apply:
Clean any dirt, loose particles or grease from AAC blocks, fly ash or hollow blocks and pre-wet the areas before application.
Add Block Jointing Mortar to recommended 23% water and mix well for 5-10 minutes.
Apply using a mason's notch trowel and make an even 3-4mm joint layer on a clean, dry block surface.
Correction time for re-alignment is up to 10 minutes to ensure perfection of block placement.
The Block Jointing Mortar is self-curing and does not require a water curing process, post-application.
DryChem Is Always Interested In New, Challenging And Exciting Projects
So, why not contact us and send us your project requirements, and we'll do the rest!