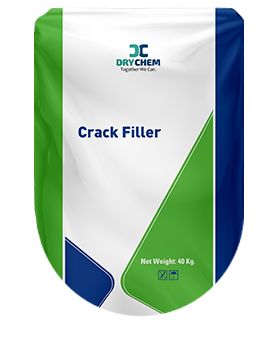 It is ideal for filling cracks, holes, levelling uneven surface and perfect modelling. For indoor use only.
Features
No water curing is required.
Ideal for internal and external wall applications.
Highly water-resistant and offer a smooth finish.
Perfect for vertical, horizontal and overhead applications.
Good workability, flexibility, and cost-effective.
Provide excellent bonding to the base plaster.
Quick-drying allows ample time-saving.
Easy to apply and excellent crack hiding tendency.
How To Apply:
Dampening the open crack up to 4 mm thick is crucial.
Allow the excess water to drain.
Make a lump-free paste of DryChem Crack Filler using water.
Let it settle for 10 minutes. Remix the paste for 2 minutes.
Use a steel trowel or a blade to fill the open cracks in depth.
Make sure to use the prepared mix within 30 minutes.
DryChem Is Always Interested In New, Challenging And Exciting Projects
So, why not contact us and send us your project requirements, and we'll do the rest!