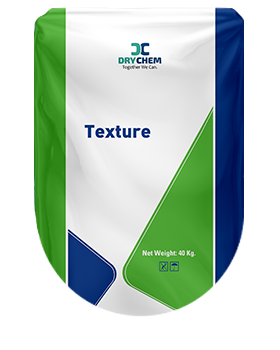 Dry Chem Texture is a decorative product. Its special formulation protects wall from the ill-effects of the weather. It is available in three categories like Internal texture, External texture, and super-fine texture.
Features
Good workability and high durability define the products' distinctive feel.
It is highly compatible with plastered or concrete wall surfaces.
The aesthetic surface finish adds to a heritage feel.
Best value for money compared to other acrylic products available on the market.
No curing is required.
Tough texture for a long-lasting effect.
Excellent resistance against the growth of algae and fungi on the wall.
Resist dampness on the wall.
How To Apply:
Clean the surface with sandpaper, wire brush, or putty blade, removing loose particles.
Dampen the surface with clean water. Allow the excess water to drain off.
Obtain a lump-free paste by mixing 15-20 % water.
Let the mixture rest for 10 minutes for all the additives to dissolve completely.
Remix for another 2 minutes.
Apply the mixture to the desired patches with the help of a plastic or fibre trowel.
Move uniformly across the surface to get the desired texture pattern and uniform levelling.
Make sure to use the prepared mix within 30 minutes.
DryChem Is Always Interested In New, Challenging And Exciting Projects
So, why not contact us and send us your project requirements, and we'll do the rest!