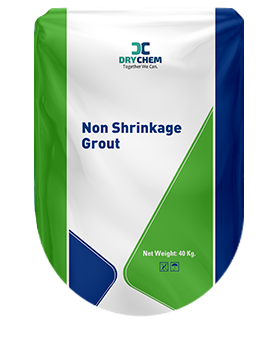 Non-Shrinkage Grout-65 can be mixed to a fluid, flowable, or plastic consistency requiring only the addition of clean water. Total shrinkage compensation, which provides a maximum bearing surface for the greatest overall support.
Features
Rapid power increase to reduce turnaround time for equipment installation
Excellent working time at high ambient temperatures.
Economical, large amounts of grout can be mixed and handled.
Non-corrosive, non-chloride, non-metallic
Excellent resistance to freeze-thaw cycling
High strength for maximum load bearing
Technical Analysis:
Compression strength
Compressive strength (after 1 days) - > 20.0 mpa
Compressive strength (after 3 days) - > 30.0 mpa
Compressive strength (after 7 days) - > 50.0 mpa
Compressive strength (after 28 days) - > 65.0 mpa
How To Apply:
Clean and pre-wet any surface free of grease, oil, or loose particles.
Place grout in a manner that avoids air entrapment. Be careful not to overwork the grout and avoid segregation.
Make vent holes wherever they are needed.
A vibrator, rod, chain, or trowel may be used to assist in consolidating the grout and eliminating air voids.
Forms should be sealed to prevent water or grout loss.
Whenever possible, bolt holes should be grouted first.
Placement and consolidation should be continuous for any one section of the grout.
Forms can be removed, and excess grout should be trimmed from surfaces and edges after the grout has hardened to its initial set.
Thickness
Thickness is critical; the minimum application thickness is 1/2 inches (13 mm) and the maximum is 4 inches (100 mm).
Curing
Keep the patch damp after the first 24 hours in the final setting stage to prevent excessive loss of water in dry or humid conditions.
Cover the surface with wet burlap or a towel overnight to retain moisture.
One can even use fog spray at this stage.
Remove the cover, leave it up for 24 hours, and let the air cure.
Damp curing is not required while repairing small cracks.
DryChem Is Always Interested In New, Challenging And Exciting Projects
So, why not contact us and send us your project requirements, and we'll do the rest!