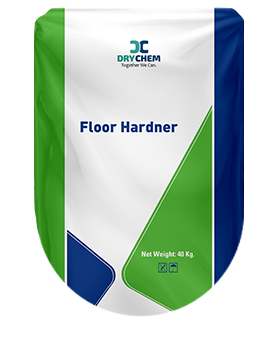 Dry Chem Floor Hardener provides a dense, tough surface capable of withstanding the abrasion and impact loading seen by floors slabs of numerous industrial and manufacturing facilities.
Features
Excellent working time at high ambient temperatures.
Easy to layover the freshly placed at floor concrete.
Non-toxic, chloride free, safe to use.
High strength for maximum load bearing
High impact resistance
Provides a non-slip surface
How To Apply:
Floor Hardener to be Applied in two coats using the dry shake method, uniformly broadcasting the product on the freshly placed concrete surface.
Broadcast 2/3 of the Floor Hardener onto the fresh concrete surface.
Float the broadcasted material into the surface with a mechanical or manual float after the hardener achieves a uniform moistened appearance.
When the water sheen has disappeared, broadcast the remaining 1/3 of the Floor Hardener onto the surface.
Float the concrete surface in the same way as before.
Do not use steel trowels.
Final finishing can be done using a power float to avoid damage.
Remember to apply bond and cure using a roller or spray to the surface to prevent dust generation and offer complete protection.
DryChem Is Always Interested In New, Challenging And Exciting Projects
So, why not contact us and send us your project requirements, and we'll do the rest!