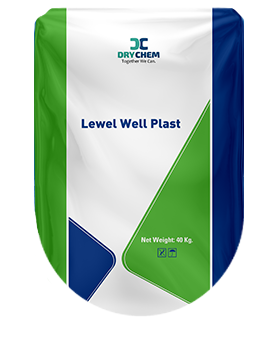 Level well form an excellent bond with cementitious surface as compared to other products in its league. Its unique formulation shields the surface from weathering effect providing long lasting protection to the surface.
Features
Provide breathability to the wall.
The setting time allow more flexibility and time for proper application.
Water resistance.
Low water absorption
It can be applied up to 1 -20 mm thickness.
How To Apply:
Clean the substrate and get rid of grease and loose particles.
Dampen the surface with clean water.
Mix the Level Well Plast with recommended 20-25 % clean water.
Water should be added to Level Well Plast and not vice-versa to make a paste.
Use a mechanical stirrer for mixing. It might take 5-7 minutes till a uniform paste is formed.
Use a plumb bob to check the verticality of wall surface, undulations, if any and mark them for easy application.
Prewet and cure the surface before application.
Use a trowel to apply on the correct level in patches.
Use a steel float to apply a uniform coat, after the patching coat.
Use an Aluminium levelling strip to further level the wall surface.
Leave the surface to dry. It might take a day or more, depending on the humidity and the temperature.
DryChem Is Always Interested In New, Challenging And Exciting Projects
So, why not contact us and send us your project requirements, and we'll do the rest!