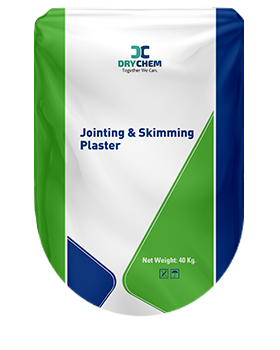 Jointing and skimming plaster can be used to fill in joints, hairline cracks, etc. It does not flake off, is permanent and retains its adhesion.
Features
Excellent workability
Good jointing properties
Environmentally friendly
Negligible shrinkage
Provides smooth, continuous, crack- resistant surfaces.
How To Apply:
Mix jointing and skimming plaster to water and not water to the powder.
Ensure to use 400-500 ml water for 1 kg of the product.
Obtain a uniform lump-free paste by mixing thoroughly using your hands.
Fill it into joints.
Allow drying at least for 24 hours. It can take more time depending on the thickness and humidity.
Ensure that the application is made in vertical and horizontal gaps and jointing tape is embedded in the layers.
The plain smooth surface is ready for painting.
DryChem Is Always Interested In New, Challenging And Exciting Projects
So, why not contact us and send us your project requirements, and we'll do the rest!